Tibetan Noodle Soup (Thukpa)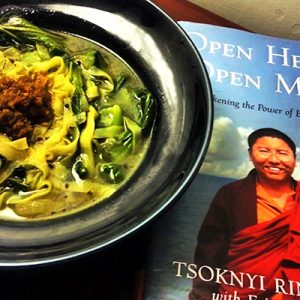 Serves 2-4 People depending on appetite
Ingredients for the Soup
3 table spoon of Oil
2 generous table spoon of Brenpa's Mindful Chili Sauce
5 Shiitake Mushroom, chopped
2 Celery, chopped
½ cup Tofu, cubed * Meat Substitute
½ lb of Ground meat (For non-veg version)
5 Cups of Spinach, chopped
1 stalk Green Onions, chopped
1 cup of Cilantro, chopped
1 tea spoon of salt
For noodles, you can use any kind. Tibetans usually make their own home-made noodles.
Boil the noodles just as you would for pasta while you prepare the ingredients and make the soup.
Making it all come together
Heat the oil
Add Brenpa's Mindful Chili Sauce
Fry chopped mushroom, celery, and tofu in the sauce
If non-veg then add your ground meat
Cook for 15 minutes
By this time your noodles should be cooked enough.
Pour the noodle with the broth into the prepared sauté
Bring the soup noodle to boil until all the ingredients including the noodle are cooked to your taste. Add more water as necessary.
Then add spinach, chopped green onions and cilantro
Add a 2 tea spoon of soya sauce if you need extra salt.
Serve it right away – it's best to eat while it's hot.
Left overs can be reheated by adding little bit of water and Brenpa's Mindful Chili Sauce.