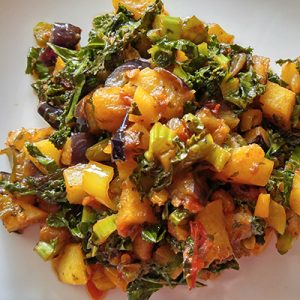 Ingredients
1 small egg plant
1 yellow pepper
1 potato
1 bunch kale
1 small tomato chopped
2 TSP oil
Salt to taste
2 TSP Brenpa's Mindful Chili Sauce

Directions
Add oil to a heated pan, stir Mindful Chili Sauce in oil, tomatoes until it sizzles. Add potatoes, yellow pepper, and egg plant and stir evenly.
Add salt to taste.
When it's half done, add kale and allow everything to come together with the lid on.
Wonderful with rice and lentils.
Did you know that eggplant is considered one of the super-foods? That it contains 90% water thus low in calorie and high in antioxidant? Check out a well researched article on the benefits of eggplant at http://www.well-beingsecrets.com/eggplant-health-benefits/. Let us know what you think ! :)